Catálogo de ejemplares tipo de las Colecciones Paleontológicas del Instituto Argentino de Nivología, Glaciología y Ciencias Ambientales (IANIGLA), Mendoza, Argentina
Resumen
El Instituto Argentino de Nivología, Glaciología y Ciencias Ambientales (IANIGLA) custodia cinco colecciones paleontológicas que empezaron a formarse en la década de 1990 y cuya información sobre los ejemplares tipo estuvo siempre atomizada. En esta contribución, se presenta por primera vez el catálogo del material tipo de cada una de las colecciones de Paleontología del IANIGLA, que corresponde a fósiles de invertebrados, vertebrados, plantas, icnitas y palinomorfos. Este material procede de secuencias sedimentarias paleozoicas y mesozoicas del noroeste y centro-oeste de Argentina y corresponde a 5 géneros y 31 especies publicadas hasta mediados del año 2015. Para cada taxón, se proporciona información sobre la sistemática, la sinonimia, la diagnosis, su identificación, el estatus, la localidad tipo, la procedencia estratigráfica y la derivación del nombre del taxón. Se indica la cantidad de holotipos y de paratipos que pertenecen a cada una de las colecciones y se señala el material no localizado.
Palabras clave
ejemplares tipo; colecciones paleontológicas; IANIGLA;
Referencias
Aceñolaza, F. G. & Beresi, M. S. 2002. Ordovician nautiloids of Argentina. En: F. G. Aceñolaza (ed.), Aspects of the
Ordovician System in Argentina. Serie de Correlación Geológica 16, pp. 107–120.
Balme, B.E. & Hennelly, J.P.F.1956. Monolete, monocolpate, and alete sporomorphs from Australian Permian
sediments. Australian Journal of Botany 4: 54–67.
Bharadwaj, D.C. 1962. The miospore genera in the coals of the Raniganj Stage, Upper Permian, India. The
Palaeobotanist 9: 68–106.
Bock, W. 1953. American Triassic estherids. Journal of Paleontology 27: 62–76.
Carbonnel, G. 1965. Sur un nouveau genre (Paralimnocythere) et une nouvelle espèce (P. bouleigensis) d'ostracodes
du Tortonien. Archives des Sciences 18: 146–152.
Carignano, A. P. & Cusminsky, G. 2015. New Upper Cretaceous Limnocytheridae (Ostracoda Crustacea) from
Argentina. Micropaleontology 61 (1-2): 25-36.
Carignano, A. P. & Varela, J. 2011. Ostrácodos (Crustacea) de la Formación Allen (Cretácico Tardío), Cuenca
Neuquina, Argentina. Revista Brasileira de Paleontología 14: 169–178.
Cecioni, G. 1953. Contribución al conocimiento de los Nautiloideos-Eopaleozoicos Argentinos. Parte I:
Protocycloceratidae-Cyclostomiceratidae. Boletin del Museo Nacional de Historia Natural 26(2): 56–110.
Chen, J. 1974. Ordovician Nautiloidea, En: A Handbook of the Stratigraphy and Paleontology in Southwest China,
pp. 138–143, Science Press, Beijing. (In Chinese).
Cookson, I.C. 1947. Plant microfossils from the lignites of Kerguelen Archipelago. British, Australian and New
Zealand Antarctic Research Expedition 1929-31. Reports, Series A, 2 127–142.
Davey, R.J. 1982. Dinocyst stratigraphy of the latest Jurassic to Early Cretaceous of the Haldager No. 1 borehole,
Denmark. Geological Survey of Denmark, Series B 6: 1-57.
de Jersey, N.J. 1979. Palynology for the Permian-Triassic Transition in theWestern Bowen Basin. Geological Survey
of Queensland, Publication 353, Palaeontological Papers 23: 1–40.
de la Puente, G. S. & Rubinstein, C. 2009. Late Tremadocian chitinozoans and acritarchs from northwestern
Argentina (Western Gondwana). Review of Palaeobotany and Palynology, 154: 65-78.
Defretin-Lefranc, S. 1965. Étude et révision de phyllopodes Conchostracés en provenance U.R.S.S. Société
Géologique du Nord, Annales 85: 15–48.
Depéret, C. & P. Mazeran. 1912. Les Estheria du Permien d'Autun. Société d'Histoire Naturalle d'Autun Bulletin 25:
–174.
Devincenzi, S.M. 2015. La Paleopalinoteca del Instituto Argentino de Nivología, Glaciología y Ciencias
Ambientales, Mendoza, Argentina. Boletín de la Asociación Latinoamericana de Paleobotánica y Palinología 15: 27-33.
Devincenzi, S.M. En prensa. La Colección de Paleoinvertebrados del Instituto Argentino de Nivología, Glaciología y
Ciencias Ambientales, Mendoza, Argentina. Ameghiniana, 53, Suplemento .
Eisenack, A., 1931. NeueMikrofossilien des baltischen Silurs.1. Palaeontologische Zeitschrift 13: 74–118.
Fensome, R.A., Taylor, F.J.R, Norris, G, Sarjeant, W.A.S, Wharton, D.I & Williams, G.L. 1993. A classification of
living and fósil dinoflagellates. Micropaleontology, Special Publication 7: 1-351.
Flower, R. H. 1946. Ordovician cephalopods from the Cincinnati region, Pt.1. Bulletins of American Paleontology
(116): 3–547.
Gallego, O. F. 1999. Estudio Sistemático de las faunas triásicas de conchostracos de la República Argentina. Tesis
Doctoral. Universidad Nacional de Córdoba, 178 pp. (Inédita).
Gallego, O., Zavattieri, A.M & López Arbarello, A. 2004. Conchostracos y restos de peces de la localidad tipo de la
Formación Río Mendoza (Triásico Medio), Provincia de Mendoza, Argentina. Ameghiniana 41: 289-301.
González Riga, B. 2003. A new titanosaur (Dinosauria, Sauropoda) from the Upper Cretaceous of Mendoza,
Argentina. Ameghiniana 40(2): 155-172.
González Riga, B., Previtera, E. & Pirrone, C. 2009. Malarguesaurus florenciae gen. et sp. nov., a new
titanosauriform (Dinosauria, Sauropoda) from the Upper Cretaceous of Mendoza, Argentina. Cretaceous
Research.30: 135–148.
Gutiérrez, P.R., Zavattieri, A.M., Ezpeleta, M. & Astini, R.A. 2011. Palynology of the La Veteada Formation
(Permian) at the Sierra de Narváez, Catamarca Province, Argentina. Ameghiniana 48: 154–176.
Gutiérrez, P.R., Zavattieri, A.M. & Ezpeleta, M. 2014. Estudio palinológico de la Formación La Veteada en su
localidad tipo (Pérmico Superior), Sierra de Famatina, La Rioja, Argentina. Granos de polen estriados, plicados y
colpados. Ameghiniana 51(6): 529-555.
Head, M. J. 1992. Zygospores of the Zygnemataceae (Division Chlorophyta) and other freshwater algal spores from
the uppermost Pliocene St. Erth Beds of Cornwall, southwestern England. Micropaleontology 38: 237–260.
Hong, Y., Yang, Z., Wang, S., Wang, S., Li, Y., Sun, M., Sun, H. & Tu, N. 1974. Stratigraphy and palaeontology of
Fushun coalfield, Liaoning Province. Acta Geologica Sinica 2: 113–149.
Hook, S. C. & Flower, R.H. 1977. Late Canadian (Zones J, K) cephalopod faunas from southwestern United States.
New Mexico. Bureau of Mines and Mineral Resources Memoir 32, 56 pp.
Jaanusson, V. 1965. Two multiramous graptoloids from the Lower Didymograptus Shale of Scandinavia. Geologiska
Föreningens i Stockholm Förhandlingar 86: 413–432.Kayser, E. 1876. Ueber Primordiale und Untersilurische Fossilien aus der Argentinischen Republik.. En: A. Stelzner (ed.), Beitra¨gezur Geologie und Palaeontologie der Argentinischen Republik. II Palaeontologischer Theil. Palaeontographica Supplement III. Verlag von Theodor Fischer, Cassel, pp. 1–24.
Keen, M. C., 1972. The Sannoisian and some other Upper Paleogene ostracoda from north-west Europe.
Palaeontology 15: 267–325.
DOI:
https://doi.org/10.24215/25456377e007
Enlaces refback
No hay ningún enlace refback.
Copyright (c) 2016 Revista del Museo de La Plata

Este obra está bajo una
licencia de Creative Commons Reconocimiento-NoComercial-CompartirIgual 4.0 Internacional
.
Esta revista se encuentra indexada en:
- 

Dialnet Plus
- 

DOAJ: Directory of Open Access Journals
- 

European Reference Index for the Humanities and the Social Sciences (ERIH PLUS)
- 

 Catálogo Latindex 2.0
- 

 MIAR: Matriz de Información para el Análisis de Revistas
-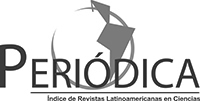 Periódica
- 

 Red Iberoamericana de Innovación y Conocimiento Científico (Redib)

Esta obra está bajo una licencia de Creative Commons
Reconocimiento-NoComercial-CompartirIgual 4.0 Internacional.