Abundancia de nematodos marinos de vida libre en relación con las características fisicoquímicas de sedimentos experimentales y naturales
Resumen
Los nematodos han sido ampliamente utilizados para evaluar diferentes tipos de disturbios. El objetivo de este trabajo fue comparar la abundancia de la comunidad de nematodos marinos de vida libre en condiciones in situ y ex situ con el fin de evaluar el efecto de las condiciones experimentales ensayadas en el laboratorio. Para ello, se colectaron muestras de sedimento (n=4) en 3 sitios del golfo San Jorge (GSJ) con diferente historia de contaminación y se las incubó en el laboratorio bajo condiciones controladas de luz, aire y temperatura durante 45 días. Al finalizar este período, se analizaron las muestras del tratamiento ex situ y se colectaron otras cuatro muestras en los sitios estudiados (in situ). Luego se comparó la abundancia de nematodos y las características de los sedimentos entre ambos sets de muestras. Restinga Alí y Playa Alsina mostraron un aumento de la abundancia de nematodos (más de 300% y 600%, respectivamente) en las condiciones fisicoquímicas registradas ex situ respecto de in situ, mientras que Punta Gravina presentó una disminución (menor al 40%). Los resultados mostraron un efecto de las condiciones experimentales ensayadas en el laboratorio sobre la fauna de nematodos, el cual fue más evidente en los sedimentos provenientes de sitios sin historia previa de contaminación.
Palabras clave
Experimento; Nematoda; Golfo San Jorge; Contaminación;
Referencias
Ansari, Z.A. & Ingole, B. (2002) "Effect of an oil spill from M V Sea Transporter on intertidal meiofauna at Goa, India", Marine Pollution Bulletin 44, pp. 396-402.
Armenteros, M., Pérez-García, J.A., Ruiz-Abierno, A., Díaz-Asencio, L., Helguera, Y., Vincx, M. & Decraemer, W. (2010) "Effects of organic enrichment on nematode assemblages in a microcosm experiment", Marine Environmental Research 70, pp. 374- 382.
Boufahja, F., Hedfi, A., Amorri, J., Aïssa, P., Beyrem, H. & Mahmoudi, E. (2011) "An Assessment of the Impact of Chromium-Amended Sediment on a Marine Nematode Assemblage Using Microcosm Bioassays", Biological Trace Element Research 142, pp. 242-255.
Burgess, R., Sharma, J., Carr, R.S. & Montagna, P. (2005) "Assessment of storm water outfalls in Corpus Christi Bay, Texas, USA using meiofauna", Meiofauna Marina 14, pp. 157-169.
Ditlevsen, H. (1911) "Danish freliving nematodes", Videnskabelige Meddelelserfra Danssknaturhistorik Forening 63, pp. 213-256.
Gambi, C., Lampadariou, N. & Danovaro, R. (2010) "Latitudinal, longitudinal and bathymetric patterns of abundance, biomass of metazoan meiofauna: importance of the rare taxa and anomalies in the deep Mediterranean Sea", Advances in Oceanography and Limnology 1, pp. 167-197.
Hägerbäumer, A., Höss, S., Heininger, P. & Traunspurger, W. (2015) "Experimental studies with nematodes in ecotoxicology: an overview", Journal of nematology 47, pp. 11-27.
Heip, C., Vincx, M. & Vranken, G. (1985) "The Ecology of Marine Nematodes", Oceanography and Marine Biology: Annual Review 23, pp. 399-489.
Jessen, G.L., Lichtschlag, A., Ramette, A., Pantoja, S., Rossel, P.E., Schubert, C.J., Struck, U. & Boetius, A. (2017) "Hypoxia causes preservation of labile organic matter and changes seafloor microbial community composition (Black Sea)", Science Advances 3(2), e1601897.
Kandratavicius, N., Pastor de Ward, C., Venturini, N., Giménez, L., Rodriguez, M. & Muniz, P. (2018) "Response of estuarine free-living nematode assemblages to organic enrichment: an experimental approach", Marine Ecology Progress Series 602, pp. 117-133.
Liu, X.S., Xu, W.Z., Cheung, S.G. & Shin, P.K.S. (2011) "Marine meiobenthic and nematode community structure in Victoria Harbour, Hong Kong upon recovery from sewage pollution", Marine Pollution Bulletin 63, pp. 318-325.
Losi, V., Ferrero, T.J., Moreno, M., Gaozza, L., Rovere, A., Firpo, M.,
Marques, J.C. & Albertelli, G. (2013) "The use of nematodes in assessing ecological conditions in shallow waters surrounding a Mediterranean harbour facility", Estuarine, Coastal and Shelf Science 130, pp 209-221.
Mahmoudi, E., Essid, N., Beyrem, H., Hedfi, A., Boufahja, F., Vitiello, P. & Aissa, P. (2005) "Effects of hydrocarbon contamination on a free living marine nematode community: Results from microcosm experiments", Marine Pollution Bulletin 50, pp. 1197-1204.
Maria, T.F., Vanaverbeke, J., Esteves, A.M., DE Troch, M. & Vanreusel, A. (2012) "The importance of biological interactions for the vertical distribution of nematodes in a temperate ultra-dissipative sandy beach", Estuarine, Coastal and Shelf Science 97, pp. 114-126.
Moreno, M., Albertelli, G. & Fabiano, M. (2009) "Nematode response to metal, PAHs and organic enrichment in tourist marinas of the mediterranean sea", Marine Pollution Bulletin 58, pp. 1192-1201.
Moreno, M., Ferrero, T.J., Gallizia, I., Vezzulli, L., Albertelli, G. & Fabiano, M. (2008) "An assessment of the spatial heterogeneity of environmental disturbance within an enclosed harbour through the analysis of meiofauna and nematode assemblages", Estuarine, Coastal and Shelf Science 77, pp. 565-576.
Netto, S.A., Gallucci, F. & Fonseca, G.F.C. (2005) "Meiofauna communities of continental slope and deep-sea sites off SE Brazil", Deep-Sea Research I 52, pp. 845-859.
Quang, N.X., Yen, N.T.M., Van Dong, N., Prozorova, L., Smol, N., Lins, L. & Vanreusel, A. (2018) "Nematode communities in the Sai Gon River harbors in relation to tributyltin concentrations", Marine Biodiversity 48, pp. 139-151.
Rosenberg, R., Hellman B. & Johansson B. (1991) "Hypoxic tolerance of marine benthic fauna", Marine Ecology Progress Series 79, pp. 127-131.
Schratzberger, M., Wall, C.M., Reynolds, W.J., Reed, J. & Waldock, M.J. (2002) "Effects of paint-derived tributyltin on structure of estuarine nematode assemblages in experimental microcosms", Journal of Experimental Marine Biology and Ecology 272, pp. 217-235.
Semprucci, F., Colantoni, P., Baldelli, G., Rocchi, M. & Balsamo, M. (2010) "The distribution of meiofauna on back-reef sandy platforms in the Maldives (Indian Ocean)", Marine Ecology 31, pp. 592-607.
Sperazza, M., Moore, J.N. & Hendrix, M.S. (2004) "High-Resolution Particle Size Analysis of Naturally Occurring Very Fine-Grained Sediment Through Laser Diffractometry", Journal of Sedimentary Research 74, pp. 736-743.
Vincx, M. & Heip, C. (1991) "The use of meiobenthos in pollution monitoring studies: a review", Benthic Communities: Use in Monitoring Point-source Discharges. ICES Techniques in Marine Environmental Science 16, pp. 50-67.
DOI:
https://doi.org/10.24215/25456377e124
Enlaces refback
No hay ningún enlace refback.
Copyright (c) 2020 Revista del Museo de La Plata

Este obra está bajo una
licencia de Creative Commons Reconocimiento-NoComercial-CompartirIgual 4.0 Internacional
.
Esta revista se encuentra indexada en:
- 

Dialnet Plus
- 

DOAJ: Directory of Open Access Journals
- 

European Reference Index for the Humanities and the Social Sciences (ERIH PLUS)
- 

 Catálogo Latindex 2.0
- 

 MIAR: Matriz de Información para el Análisis de Revistas
-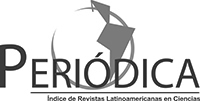 Periódica
- 

 Red Iberoamericana de Innovación y Conocimiento Científico (Redib)

Esta obra está bajo una licencia de Creative Commons
Reconocimiento-NoComercial-CompartirIgual 4.0 Internacional.